Unleash Your Inner Starlet with These Spectacular Galaxy Makeup Looks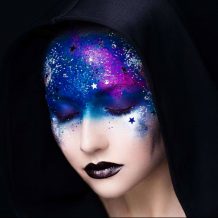 Get ready to sparkle and shine as you unleash your inner starlet with these sparkling galaxy makeup looks! Everyone has a little bit of cosmic energy waiting to be unleashed, and what better way than with sparkling, out-of-this-world makeup? This guide will provide an abundance of inspiration for creating sublimely shimmery designs suitable for festivals, fun nights out, or just daydreaming at home. So whether blues and purples are more your speed or vibrant pinks and oranges make you feel alive, our selection of stunning galaxy makeup styles will have something to capture your heart's desire. So get ready to explore a world filled with beautiful glittery galaxies near and far!
Create a galactic look with these amazing galaxy makeup tutorials
Learn how to create the perfect galaxy look with these step-by-step tutorials. Learn how to apply starry shadows and glitters, use fun colors and effects, and create a beautiful cosmic look that will show off your creativity! You'll be sure to turn heads when you're rocking this ethereal galactic look. You can transform into a cosmic goddess with a few simple steps in no time! So let's get started on creating some stellar looks that will have everyone talking.
Start by prepping your face with foundation and concealer to ensure an even canvas for your makeup design. Once you have applied primer and foundation, it is time to start working on adding the stars of your galactic look – glitter and shimmer. Start using a glitter primer to ensure that the loose glitters stay in place as you create your design. You can use different colors of glitter and shimmer to create an ethereal glow on your skin or pick up some bright neons for a more out-of-this-world look.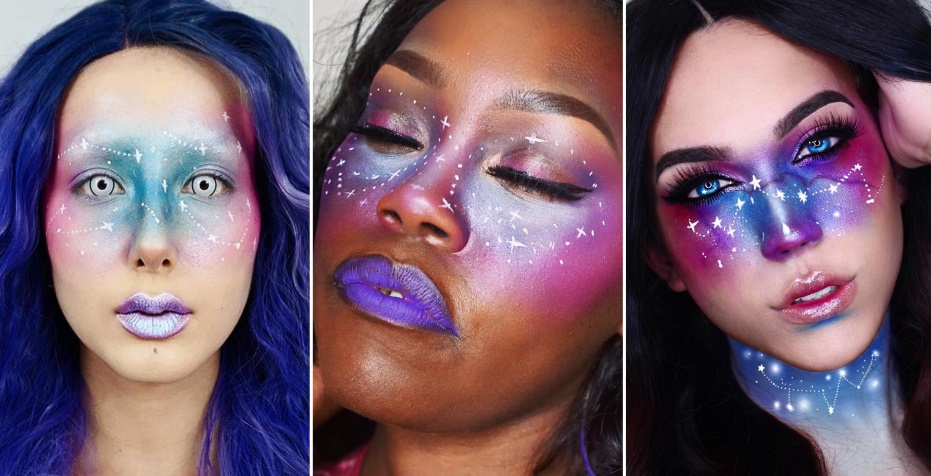 Once you have applied the glitter and shimmer, it is time to add some colorful shades of eyeshadow! To give your galaxy makeup look a bit of depth, try adding darker shades towards the outer corner of the eye area and lighter hues closer to the inner corners. You can also play around with two-toned eyeshadow palettes for a more dramatic effect. Finally, finish off your interstellar eye look with a few swipes of mascara and some false eyelashes for extra drama.
To complete your galactic makeup look, add a bit of color to your cheeks by using a blush or highlighter. This will give you an overall glowing effect that is sure to turn heads! Finally, finish off the look with a bold lip color and line it with a coordinating lip liner. With these steps, you'll have yourself a stellar, galactic makeup look that will make everyone around you say 'wow!'
Guide to rocking the latest trends in galaxy makeup look
Galaxy makeup has been making a major splash on the beauty scene, and it's all because of its bold, out-of-this-world vibes. If you want to turn heads with your next look, this trend is definitely for you! Here are our top tips for rocking a stellar galaxy makeup look:
Start with a clean face. Before you begin any makeup look, it's important to ensure that your skin is free of dirt and oil so that your look lasts throughout the day. Next, use a gentle cleanser to wash away any impurities and pat dry before moving onto the next step.
Create an even base layer. Galaxy makeup looks best when applied over a smooth and even canvas. To get this effect, apply an oil-free primer over your face. Then, once it's been absorbed, apply a thin layer of foundation to even out skin tone and hide any imperfections.
Add some shimmery shades. Once you've achieved that even base layer, it's time to add some sparkle with the help of galaxy makeup! Start by creating an ombre effect around your eyes with light and dark shimmers in shades of purple and blue for a truly ethereal look. Then, use glittery highlighters on your cheekbones and down the bridge of your nose to bring out all the best features on your face!
Don't forget the lips. No galaxy makeup look is complete without a bold lip. Try opting for a deep plum or berry shade for an added touch of glamour. Also, don't be afraid to add shimmery eyeshadows on top of your lipstick to give it extra sparkle!
Seal with setting spray. Once you've finished applying all the colors, don't forget to seal in your look with a setting spray. This will help ensure your makeup stays put throughout the day and prevents your colors from running or smudging.
With these tips, you'll be sure to rock any galaxy makeup look! So experiment and have fun – this trend is here to stay!